Select Legislative Responses to COVID-19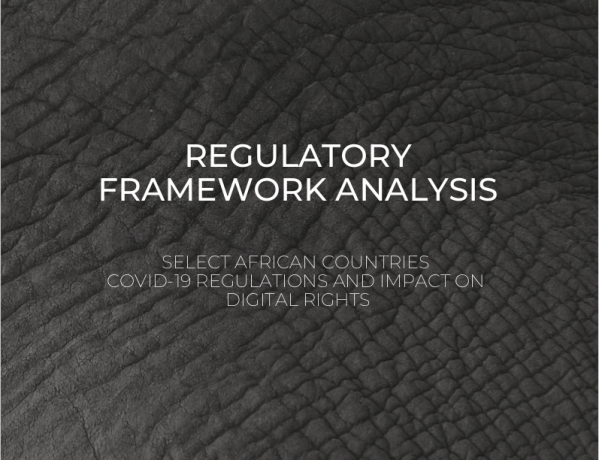 As a result of the continued global spread of COVID-19, civil society organisations, human rights activists and digital rights activists have identified a range of potential and actual human rights violations as the continent responds to the COVID-19 pandemic. These include limitations to the exercise and/or facilitation of rights through the internet or other digital mediums. Some of these limitations, such as contact tracing and surveillance measures, are a result of new laws passed in response to the pandemic or amendments to existing laws which governments have relied upon as a direct regulatory and legislative response to the COVID-19 pandemic.
EndCode, in its capacity as an African technology law and policy consulting firm and member of the African Declaration on Internet Rights and Freedoms (AFDEC) Coalition, was selected to compile this report as a strategic intervention facilitated by the AFDEC COVID-19 & Digital Rights Rapid Response Fund. The Report identifies regulations that Angola, Malawi, Mauritius, South Africa, Zambia and Zimbabwe have enacted in response to the COVID-19 pandemic in order to consider the implications and impacts these responses have had on select digital rights. These rights are:
⇁ the right to freedom of expression;
⇁ the freedom of assembly and association and the internet;
⇁ the right to privacy and personal data protection;
⇁ the right to the security, stability and resilience of the internet; and
⇁ the right to due process.
The AFDEC was used as a baseline against which various regulatory interventions were considered in order to identify possible and actual digital rights violations. Sources of information consulted include governmental repositories of laws and regulations as well as secondary sources such as commentary and opinions of experts, academics, and civil society groups.
In addition to the analysis conducted on the impact or potential impact of COVID-19 regulations on each of the rights listed above, the report concludes with recommendations constructed for consideration by public and private bodies, civil society, governments and non-governmental organisations, in order to protect and give effect to digital rights.
Download a free copy of the Research report:
REGULATORY FRAMEWORK ANALYSIS SELECT AFRICAN COUNTRIES COVID-19 REGULATIONS AND IMPACT ON DIGITAL RIGHTS